【问题描述】
===========================
在Exchange 2010收件人管理中创建从Exchange 2003迁移旧版邮箱时报以下错误,无法新建迁移邮箱:
Summary: 1 item(s). 0 succeeded, 1 failed.
Elapsed time: 00:00:01
mailboxname
Failed
Error:
Active Directory operation failed on asiabmp.bmp-asia.com. This error is not retriable. Additional information: Insufficient access rights to perform the operation.
Active directory response: 00002098: SecErr: DSID-03150A48, problem 4003 (INSUFF_ACCESS_RIGHTS), data 0
The user has insufficient access rights.
Click here for help... http://technet.microsoft.com/en-US/library/ms.exch.err.default(EXCHG.141).aspx?v=14.3.174.1&t=exchgf1&e=ms.exch.err.Ex6AE46B
Exchange Management Shell command attempted:
'test.com/ mailboxname/ mailboxname' | New-MoveRequest -TargetDatabase 'Manager'
Elapsed Time: 00:00:01

【解决方法】
===========================
打开Active Directory Users and Computers打开这个用户,选择属性,切换到安全选项卡,选择高级,确认是否"Allow inheritable permissions…"(允许父项的继承权限…)没有勾选,如果没有勾选,请勾选,并应用。尝试新建本地移动请求看是否成功。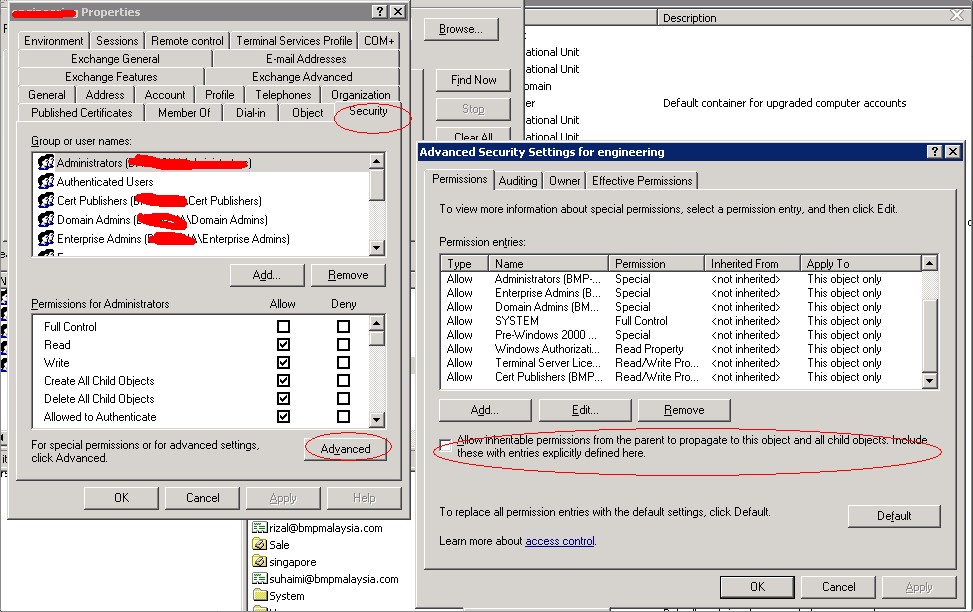 【参考资料】
===========================
http://www.msexchange.org/articles-tutorials/exchange-server-2007/management-administration/exchange-2007-issues-mailbox-management.html
http://social.technet.microsoft.com/Forums/exchange/en-US/6331f602-4a21-43cb-af71-b5b1c4fcb140/active-directory-response-00002098-secerr-dsid03150bb9-problem-4003-insuffaccessrights?forum=exchange2010